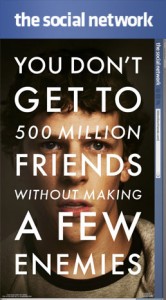 English version: As we have done for the series finale of Lost, here are ten pages of the screenplay for the movie "The Social Network", directed by David Fincher and written by Aaron Sorkin. Just like the last time, we received the entire script from an anonymous source, but we have chosen to publish only the first 10 pages because our intention is not to ruin the film or cause damage to the director, the actors, the screenwriter or the Studio. Indeed: Fincher and Sorkin are so great that is really worth it to go see the movie in a theatre, when it comes out. Click on the thumbnails for a larger version.
---
Ci risiamo. Qualche tempo fa Macchianera pubblicò sei pagine della sceneggiatura dell'ultima puntata di Lost, e quelle pagine fecero – tra una certa incredulità iniziale – il giro del mondo.
Oggi tocca a dieci pagine della sceneggiatura di "The Social Network", il film che racconta l'ascesa di Mark Zuckerberg, il fondatore di Facebook, diretto da David Fincher (Se7en, Fight Club) e sceneggiato da Aaron Sorkin (The West Wing, Studio 60 on the Sunset Strip). Sarà nei cinema nel giro di qualche settimana (il 1° ottobre, per l'esattezza), ma è su Macchianera oggi.
Malgrado la fonte anonima ci abbia fornito l'intera sceneggiatura, abbiamo scelto di pubblicarne solo le prime 10 pagine, perché non è nostra intenzione rovinare il film prima che tutti lo vedano, o causare un danno al regista, allo sceneggiatore, agli attori o alla casa di produzione. Anzi: Fincher e Sorkin sono talmente grandi che vale proprio la pena andiate a vedere il film al cinema, quando uscirà. Qui trovate il sito ufficiale e qui uno stupendo trailer.
Questo è uno scoop dedicato ai più curiosi, a quelli che non ce la fanno ad aspettare e non hanno problemi a leggere in anteprima la scena iniziale.
Clicca sulle immagini per ingrandirle.
Le altre pagine dopo il salto – More after the jump
(Visited 625 times, 1 visits today)